Car and Truck Touch Up Paint
We'll help you find the right touch up color to match your car, bike, truck or van
View All Car Makes
Auto Touch Up Spray Paint and Paint Pens
For most of us, our vehicles are our second or even our largest single investments. Because of this, we try to keep them running as long as possible. Engine repairs, regular maintenance, new tires, car washes, etc are just some of the things we do to keep our cars and trucks healthy. But what about those road chips from flying rock on the highways, scrapes and scuffs from rogue grocery carts, and the mystery scratches that appear out of nowhere. It's time to think about car and truck touch up paint.
Damaged paint is not just a cosmetic issue. Scratches, chips, scuffs and dings can mean exposed metal. Exposed metal on a car means rust and rust means holes and structural issues. Sure, your car will look better if you fix those nasty paint chips and scrapes but let's call it a bonus that your car will not be losing a little of itself literally, every time you hit the highway. This is where our auto touch up spray paints and paint touch up pens come in handy. Use our year, make, and model search above to find your vehicle and paint color codes or enter your color code if you already have it.
We also have how-to videos and application instructions on the best way to apply the auto touch paint for optimal results. Together, we can keep your car looking good for years to come.
Color Match Guarantee
Any Make, Model or Color
Over 250,000 Colors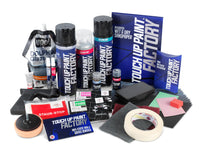 The All-in-1 Paint Pen & Paint Bottles
Our new All-in-1 touch up paint pen and bottle combines premium paint and our special proprietary clear coat in 1. A perfect match with the manufacturers OEM paint colors.
You get a fast fix scratch repair and a spotless finish in half the time.
Shop Accessories
Exact Match Aerosol Spray Paints
Our Aerosol paint spray delivers an exact paint match with manufacturers OEM colors using paint of the highest quality and color opacity.
The Projet Nozzle creates a smooth fan pattern that is ideal for bumper repairs, mirrors and large panels.
Shop Aerosols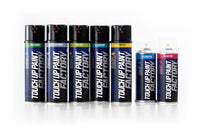 Color Match Guarantee
Fast Shipping
Customer Advice